How hard is the water in Hove?
Water hardness reading:
280 ppm (very hard)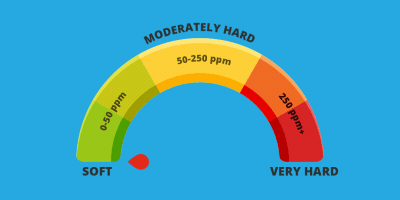 What makes the water so hard in Hove? 
Like so many parts of the south of England, especially along the coast, the soil in Hove is very chalky. In fact, northern parts of Hove are actually built on chalk beds, which explains why the water is so hard.
Despite fluctuations in rainfall throughout the year, which affects how hard the water becomes, the water hardness for Hove level averages out at around 280 ppm (parts per million).
Annual rainfall: 35.9 inch or 912 mm 
Hove is an historic seaside resort, closely aligned to its adjoining neighbour, Brighton. Originally a small fishing village, it grew rapidly in the 19th century and by the Victorian era was a fully developed town with borough status.  In the year 2000, the unitary authority of Brighton and Hove was granted city status. 
In 2020, the population of the city of Brighton and Hove was recorded at just over 250,000.
Seen as more genteel than Brighton, if you live in Hove but are asked whether you live in Brighton, the humorous reply of "Hove actually" was apparently attributed to the famous local actor Sir Laurence Olivier. In 1990, the town even used the slogan to promote its tourism industry.  
Mains and Drinking Water in Hove
The mains water supply for Hove comes from Southern Water.
Interested in learning more about a water softener installation in Hove?
Water softness of nearby locations
A water softener will give you...