How hard is the water in Rowland's Castle?
Water hardness reading:
280 ppm (very hard)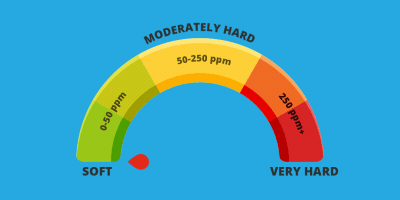 What makes the water so hard in Rowland's Castle?
The soil content in and around Rowland's Castle is extremely chalky, as with so many parts on or near the south of England coastline. For this reason, the water hardness in Rowland's Castle is classed as very hard at 280 ppm (part per million).
This is the average annual figure, but it can fluctuate according to the amount of rainfall. The more rain that falls and seeps into the chalky sublayers of soil, the harder the water becomes.
Rowland's Castle – an Overview
33 inch or 841 mm
Rowland's Castle is a village in eastern Hampshire, about 3 miles north of Havant close to the Hampshire/Sussex border. The name derives from a motte-and-bailey castle, whose remains are located just to the east of the village.
A charming place to live, its focal point is the lung-shaped village green which is about 250 yards long and 40 yards wide. At the 2011 census, the population was recorded at 2530.
Philip McCutchan, (pen name Duncan MacNeil), the author of over 130 novels lived in Rowland's Castle from 1954 to 1963. With his wife, Myrtle, he ran a local teashop, called The Spanish Gipsy, attached to Myrtle Cottage, 32 The Green.
Mains and Drinking Water in Rowland's Castle
Portsmouth Water's head office and main water collection springs are located directly to the south of Rowland's Castle, straddling an underground chalk aquifer, which the water flows through. The nearby River Lavant can flood when the aquifer is overfilled.
Interested in learning more about a water softener installation in Rowland's Castle?
Water softness of nearby locations
A water softener will give you...