How hard is the water in Arundel?
Water hardness reading:
240 – 280 ppm (very hard)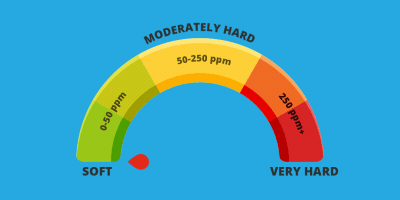 Why is the water in Arundel so hard?
Large parts of the south of England are prone to hard water and Arundel is no exception! The chalky soil is the major culprit for turning initially soft rainwater hard. It's no wonder why so many households choose to have a water softener to combat incessant hard water flowing through their taps! 
Any water hardness reading of over 200 ppm (parts per million) is considered hard and Arundel's level ranges between 240 and 280ppm. The higher readings tend to be during periods of heaviest rainfall.  
Annual rainfall in Arundel: 30.75 inch or 781mm.
The picturesque and historic town of Arundel acts as a major bridging point over the River Arun, which runs along its eastern boundary. The town itself grew up on the slope below the dramatic backdrop of Arundel Castle, built during Norman times and which, today, is one of the biggest visitor attractions in West Sussex. 
Lying just outside the boundaries of the spectacular South Down National Park, with its charming mix of listing buildings, museums, shops and cafes, not to mention its Roman Catholic Cathedral, Arundel is one of the smallest cities in Britain – with a population of little more than 3500.  
The castle grounds even contain their own cricket ground – often cited as being one of the country's most picturesque – which plays host to Sussex County Cricket Club for various matches each season.  
Famous people from Arundel include the actress Judy Geeson, the potter and painter Derek Davis and successive Dukes of Norfolk, whose ancestral home is Arundel Castle. 
Mains, drinking water & sewage services in Arundel
The drinking water for the majority of homes in Arundel and the surrounding district are supplied by either Southern Water or Portsmouth Water.
Interested in learning more about a water softener installation in Arundel?
Water softness of nearby locations
A water softener will give you...