How hard is the water in Alton?
Water hardness reading in Alton:
282 ppm (very hard)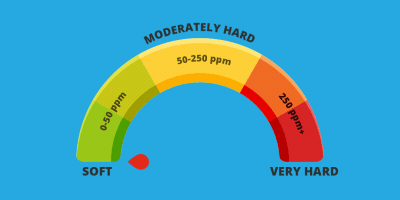 The water supply for Alton is hard. This is why.
Like large parts of southern England, the county of Hampshire is subject to hard water – and Alton is no exception. This doesn't actually have anything to do with the water companies who provide the water. For although they don't actually do anything to make water hard or soft, it's the soil beneath our feet which has the final say.
Alton lies on soil predominantly comprising chalk, clay and limestone, which is abundant with minerals like calcium and magnesium. The rainwater we receive is soft in its natural composition but, once it seeps into the soil, the calcium and magnesium components have the effect of making the water hard.
If you are a resident of Alton and aren't especially keen on hard water, the best course of action is to have a water softener installed. You'll immediately notice a difference! Soft water is a great way to help prevent dry skin and, as for your hair, washing in soft water will make it look and feel shinier and softer. Plus, your laundry won't end up all starchy, which is what happens when you put washing in hard water.
A water softener will also get rid of that horrible limescale accumulation which occurs in household appliances and pipework. It is so much easier to keep kitchen and bathroom surfaces clean with softened water on tap. And during times of exorbitant energy bills, you'll discover that your money does further on heating and hot water. That's because boilers work more efficiently when they aren't battling against limescale build up.
In Alton, the water hardness levels are measured at around 282 parts per million (ppm). Alton's reading is high when you consider that any reading over 200ppm is considered hard.
Annual rainfall: 30.75inch or 781mm.
The market town of Alton is in East Hampshire, close to the River Wey, lying 9 miles to the south west of Farnham and 16 miles to the north east of Winchester. London is just over 50 miles away. At the 2001 census, the population of Alton was recorded at 17,816.
The town features a range of chain stores and independent shops, including greengrocers, butchers and a hardware shop.
Each year in June, Jane Austen Regency Week celebrates the time the author spent in Alton. The Town Gardens contain a bandstand, although the original one built in 1935 was replaced in 2013 to commemorate Elizabeth II's Diamond Jubilee.
Alton mainline station not only runs services to London Waterloo but it is also the terminus for the Watercress Line, formerly the Mid Hants Railway, a restored steam railway running between Alton and New Alresford. It's so called because it used to be used to transport fresh watercress to London.
Mains and Drinking Water in Alton
South-East Water provide the main water utilities in Alton.
Interested in learning more about a water softener installation in Alton?
Water softness of nearby locations
A water softener will give you...