How hard is the water in Bramley?
Water hardness reading:
275 ppm (very hard)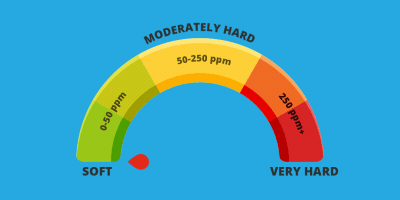 If you live in Bramley, your mains water will be hard:
Whether you are a fan of hard water or not, if you live in Bramley, it'll definitely be hard water that flows through your taps! The only way to prevent this from happening is to have a water softener installed. It's little wonder that so many homes in this part of Surrey choose to do exactly that.
So why is the water so hard in and around Guildford? Well, actually, it's the same for much of the south of England. The culprit is the type of subsoil in the region. It's mainly of chalk and clay, which is full of minerals such as magnesium and calcium. When it rains – rainwater is soft, incidentally – the water becomes hard after coming into contact with these minerals. The more it rains, the harder the water. And that's why you get all that limescale build up in your kitchen and bathroom – unless you have a soft water system fitted, that is!
Bramley's water hardness level fluctuates around 275 parts per million (ppm). That's pretty hard! Anything over 200ppm, is classed as hard.
Annual rainfall: 23.90inch. or 607mm.
The village of Bramley lies about three miles south of Guildford, with the majority of the parish within the Surrey Hills Area of Outstanding Natural Beauty.
Documents record the village's existence as far back as the Anglo-Saxon era. In 1086, given its location in such a well-cultivated, fertile area with valuable mills, ranked by yearly income, Bramley was the largest and most valuable manor in Surrey. Today, Cranleigh Waters flows through and drains the village.
Since World War II, the village centre has undergone considerable development, including shops, a library, catholic church and housing.
A victim of the famous Beeching cuts, after serving the village for almost a century, the Cranleigh railway line to Horsham, which included Bramley & Wonersh railway station, closed in 1965. In 2004, The Bramley Grange Hotel was replaced by similarly styled apartments, after fire destroyed the original building.
Mains, drinking water & sewage services in Bramley
The mains water supply and sewerage services for Bramley are provided by Thames Water.
Interested in learning more about a water softener installation in Bramley?
A water softener will give you...