How hard is the water in Brighton?
Water hardness reading:
280 ppm (very hard)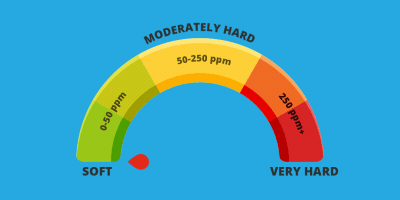 What makes the water so hard in Brighton?
The south of England is particularly known for how hard the water is. And Brighton is right up there! It's reckoned to be amongst the top five towns and cities for water hardness levels. Which is one reason why so many local residents choose to have a water softener installed. and around Brighton is super chalky! This has the effect of making the water extremely hard – and Brighton is no exception.
With the ever present chalky soil of the nearby South Downs, whenever it rains Brighton is a sitting target for yet more hard water coming in its direction! As a result, the water hardness level is around 280 ppm (parts per million) and it can go higher still.
Annual rainfall: 34 inch or 850 mm
Brighton is one of the UK's best known seaside tourist resorts, less than an hour's train ride due south of London, unsurprisingly it's a magnet for day-trippers and short breaks. Documented in the Domesday Book of 1086 as 'Brighthelmstone', since the 1700s Brighton has been known a major health resort.
The landmark Royal Pavilion was constructed by King George IV and at 1722 feet long, the Brighton Palace Pier, opened in 1899, is regarded as one of the finest ever built.
Described as Britain's "hippest city" Brighton is also the unofficial gay capital of the UK. Along with its neighbour Hove, Brighton and Hove has held city status since the turn of the millennium.
Famous locals include Steve Ovett, the world record-holding and Olympic champion athlete; Norman Cook "aka Fat Boy Slim" and Zoella (Zoe Sugg) the famous social media personality.
Mains, Drinking Water & Sewerage Services in Brighton
The mains water supply to Brighton, as well as sewerage services, are provided by Southern Water.
Interested in learning more about a water softener installation in Brighton?
Water softness of nearby locations
A water softener will give you...