How hard is the water in Staines?
Water hardness reading in Staines:
284 ppm (very hard)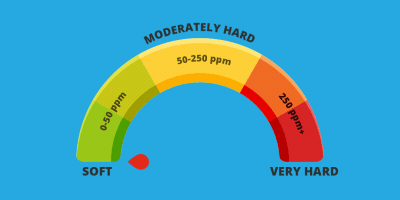 Staines is subject to hard water. This is the reason.
Staines, like the majority of the south-east of England, suffers from hard water. Many people are dissatisfied with hard water and believe it is caused by the way water companies treat it. However, this isn't actually the case. The reason why water is hard is all down to the soil. As with much of southern England, Staines sits on clay soil. This consists of calcium and magnesium minerals.
When rain falls from the sky, it is soft. Nevertheless, when the rain reaches the soil, the calcium and magnesium components have the effect of turning the water from soft to hard. It's a natural phenomenon! For anyone living in Staines, who would rather not have hard water flowing through their taps, the best advice is to have a water softener installed. With softened water on the go, your skin and hair will look and feel shinier and softer, since hard water is a major cause of skin dryness and flaky scalp. Laundry, too, reacts well when washed in soft water.
In addition, with a water softener in situ, you won't get horrible limescale build up in pipework and household appliances. Washing machines and dishwashers will work more efficiently and it will be much easier to keep kitchen and bathroom surfaces shiny and clean for longer, requiring less outlay on cleaning products. Plus, central heating systems will work more effectively, thereby reduce household energy costs.
In Staines, the water hardness level touches 284 parts per million (ppm). It goes up and down a little depending on rainfall quantity but, fundamentally, that's still a pretty hefty reading! Putting this into context, anything over 200ppm is considered hard, with a 300ppm reading being exceptionally hard. So, Staines is right up there!
Annual rainfall: 23.90inch or 607mm.

The town of Staines-upon-Thames is located on the left bank of the River Thames in Surrey, in the borough of Spelthorne. Whilst the borough is actually in Middlesex, it falls within the domain of Surrey County Council.
Lying inside the M25 motorway, Staines lies 17 miles southwest of central London, in prime commuter belt territory, just three miles from Heathrow Airport to the north east. The local railway station is a main stop on the London Waterloo line. Staines bridge across the Thames was completed in 1832.

Staines also numbers numerous parks and leisure centres, has a football club and boasts a selection of multi-national research/technology company offices. Notable residents have included the notable war pigeon, All Alone; Danny Blanchflower, Tottenham's double-winning captain; and the comedian Bobby Davro.
Mains and Drinking Water in Staines
Thames Water are the chief providers of mains water and sewerage services for Staines.
Interested in learning more about a water softener installation in Staines?
Water softness of nearby locations
A water softener will give you...