How hard is the water in Redhill?
Water hardness reading:
280 ppm (very hard)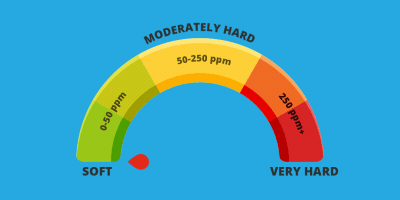 Why is the water in Redhill so hard?
Surrey is one of those counties, like Sussex and Hampshire, where hard water is the norm. And the town of Redhill is no exception. The reason for this is that the subsoil is largely made up of chalk and clay. And this soil type contains minerals, such as calcium and magnesium which, whilst they aren't harmful, do have the effect of turning rainwater hard. This is one of the key factors as to why so many households in Redhill and the surrounding areas elect to have water softeners fitted.
We measure water hardness in parts per million (ppm). If you reside in a location where the hardness level is above 200ppm, then this is considered hard. The closer the reading gets to 300ppm, the harder the water gets. Not quite hailstones in the shower time, but it's starting to move in that direction! The reading for Redhill is 280ppm, which means that the water is judged to be very hard.
Annual rainfall: 23.90 inch or 607mm
Redhill is a town in the borough of Reigate and Banstead, adjoining Reigate to the west. It is also the post town, entertainment and commercial hub for much of the surrounding area, including Bletchingley, Merstham, Earlswood and Nutfield. In 2018, there were well over half a million residents in the Redhill postcode area, even though the population of the town of Redhill itself is around 38,000.
Redhill is also at the junction of the A23 and the A25, with the busy M25 and M23 motorways just a few miles away.
The town itself is a bustling commercial and retail centre, with its own pedestrianised High Street. Although only about seven miles north of Gatwick Airport, Redhill boasts its own aerodrome, where many a budding pilot from the south of England has been instructed to fly!
Mains, drinking water & sewage services in Redhill
The mains drinking water provider for Redhill is SES Water, who are based in the town.
Interested in learning more about a water softener installation in Redhill?
Water softness of nearby locations
A water softener will give you...