How hard is the water in Donnington?
Water hardness reading:
280 ppm (very hard)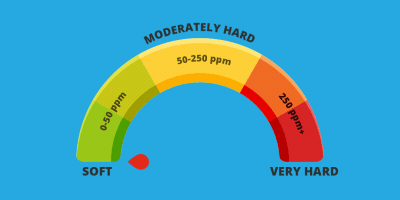 Why is the water in Donnington so hard?
Like pretty much the entire county of West Sussex (and beyond) Donnington is subject to hard water coming from the mains supply. It's not that rainwater is hard when it falls – it isn't – it's naturally soft. The reason you end up with hard water is down to the soil that lies beneath much of the county. It's predominantly chalky, including areas such as Donnington. The chalk contains minerals like magnesium and calcium and its these deposits which have the effect of turning the water hard. So, you can see why so many local households choose to have water softeners installed.
Water hardness is measured in parts per million. To give you an idea of just how hard the local water is, in Donnington, it is measured at around 280ppm. Anything over 200ppm is considered hard – and the nearer it gets to 300ppm it starts becoming exceptionally hard! Incidentally, the more it rains, the greater the likelihood of hard water.
Annual rainfall: 36.5 inch or 928mm
Located due south of Chichester, but within easy reach of the city, the parish of Donnington stretches south of the A27 bypass, across the fields of the Manhood Peninsula to Sidlesham. It has around 2000 residents.
Donnington is a nice mix of traditional and modern. The parish dates back to around AD966, but there is a bustling village of shops and small businesses.
The village's original schoolhouse, tailor's shop and forge have now been turned into private homes, but the historic local pub retains its name – the Blacksmiths Arms – as an appreciative nod to the past.
Footpaths, rich with flora and fauna, are a local feature. These include one that takes in the original Selsey Tramway route, whilst you can also follow the towpath along the Chichester Canal (highly recommended).
Mains, drinking water & sewage services in Donnington
Donnington's mains water and sewerage services are largely provided by Southern Water.
Interested in learning more about a water softener installation in Donnington?
Water softness of nearby locations
A water softener will give you...