How hard is the water in Carshalton?
Water hardness reading:
278 ppm (very hard)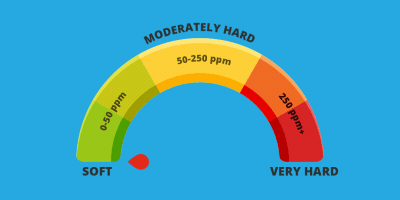 The water in Carshalton is hard. This is why.
Like most of the south of England, Carshalton is plagued with hard water! Many people think that it must be due to the way that water is treated. But this isn't the case. The culprit is actually the soil. Carshalton sits on predominantly clay soil, which contains calcium and magnesium minerals. Although rainfall is actually soft, when it seeps into the soil, these calcium and magnesium minerals change the water from soft to hard.
For residents of Carshalton, the recommended way to overcome hard water is to have a water softener installed in your home or business premises. The change can be dramatic. Soft water is much healthier to wash in, as its gentler on the skin and hair (preventing dryness) and your laundry will feel like new again after being washed in softened water. Furthermore, soft water prevents limescale from accumulating in pipework and household appliances, like kettles, dishwashers and washing machines. You'll also find it much easier to keep kitchen and bathroom surfaces cleaner and shinier, whilst central heating systems benefit from not being clogged up with scale. You get more heat and hot water for less money!
The water hardness level for Carshalton is 278parts per million (ppm). Although this varies a little depending on the amount of rain, any measurement reading consistently above 200ppm is considered hard. At 278ppm, Carshalton is getting towards the top of the scale.
Annual rainfall: 15.28inch or 388mm.
Carshalton is a town that has an historic village centre, located in the London Borough of Sutton, in the valley of the River Wandle, one of the sources of which is Carshalton Ponds in the middle of the village. Carshalton consists of a number of neighbourhoods; the main focal point being the scenic and picturesque Carshalton Village. It features two adjoining ponds that are overlooked by the Grade II listed All Saints Church, the Victorian Grove Park and the Grade II listed Honeywood Museum, just a few yards from the water.
At the 2001 census, the combined population of the five wards comprising Carshalton stood at 45,525. The village contains an art gallery, gift stores, clock dealers, antique shops, coffee houses, pubs and restaurants. In 2014, a Carshalton pub was voted one of the best four in the UK, according to CAMRA. Carshalton Beeches, to the south-east of the main Village, also has its own shopping area.
The singer and songwriter, Sir Cliff Richard, went to Stanley Park Junior School in Carshalton.
Mains and Drinking Water in Carshalton
If you live in Carshalton, the main provider of your mains water and sewerage services is Thames Water.
Interested in learning more about a water softener installation in Carshalton?
Water softness of nearby locations
A water softener will give you...