How hard is the water in Abinger Hammer?
Water hardness reading:
280ppm (very hard)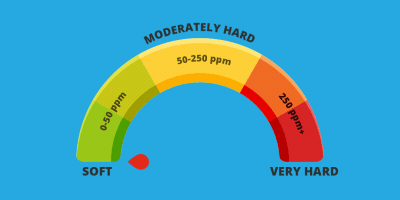 The water is very hard in Abinger Hammer – here's why
One thing you can't blame hard water on is the rain. When it falls from the sky, it's actually soft. The problem is what happens to rainwater at ground level. Across Surrey – and Abinger Hammer is no exception – the underlying soil consists largely of chalk or clay. These components are rich in minerals, like calcium and magnesium. Once rainfall comes into contact with these minerals, it has the effect of turning the original soft water hard. If you aren't keen on having hard water flowing through your kitchen and bathroom taps, the most effective response is to have a water softener installed in your home.
In Abinger Hammer, the measurement of water hardness is in the region of 280 parts per million (ppm). When water hardness is over 200ppm, it is deemed to be hard. At 300ppm, start thinking about wearing a tin hat in the shower! A water softener will bring the reading right back to virtually zero ppm.
Abinger Hammer – an Overview
Annual rainfall: 26.66inch or 667mm.
Abinger Hammer is a Surrey village on the A25 in the Vale of Holmesdale that lies within the Surrey Hills Area of Outstanding Natural Beauty, midway between Guildford and Dorking. The village's name comes from its water-powered iron forge.
The River Tillingbourne flows through the village. In the 16th century, the river was enchanneled, creating a hammer pond, providing water power for Abinger Hammer Mill, which worked Sussex-source iron. Subsequently, the pond has been adapted to cultivate watercress.
A clock, which overhangs the main road, portrays the figure of "Jack the Blacksmith", who strikes the hour with his hammer. The clock represents the iron industry and the role that Surrey played in our industrial past.
During summertime, Abinger's village green in Abinger is popular with people having picnics, watching the local cricket team. The pitch borders the Tillingbourne and children are often seen fishing with nets in the shallow and sandy stream.
Mains and drinking water in Abinger Hammer
If you live in Abinger Hammer, unless you rely on bore holes and well supplies, your mains water and sewerage services provider is Thames Water.
Interested in learning more about a water softener installation in Abinger Hammer?
Water softness of nearby locations
A water softener will give you...