At SJ Water Softeners, we take pride in being ahead of the game, both in terms of the outstanding range of soft water products and solutions we provide and also the service we offer our customers. First and foremost, it's you the customer who comes first.
With this in mind, we are constantly looking at ways to improve and fine-tune what we do. One of the most exciting innovations we have introduced in recent times is to offer our customers the option of a subscription service.
OK, I hear you say, but surely once I've bought my water softeners and filters and all the gubbins that goes with them, I'm all set up. Why would I need to take out a subscription and all the unnecessary expense? What's the point?
Well, as it happens, there are a number of points that, when combined, demonstrate precisely why a subscription is certainly worth serious consideration. Indeed, it could actually save you money, as outlined below.
Advantages of taking out a Scott Jenkins subscription
In a nutshell, here are the key benefits that our subscription service offers:
Affordability: A subscription offers discounted rates on Filter replacements and servicing "Health Check"
Convenience: A subscription service is designed to make your life easier. A "set it and forget it" passive payment system will ensure your soft water system takes care of itself. We'll look after the rest.
Comprehensive Service: As part of your "Health Check" subscription, there are no hidden costs. We can also ensure that you are made immediately aware of any special offers and product upgrades, via email or text. And we'll call you 2 weeks beforehand to ensure you are booked in for your up-coming service or filter change.
Reliability: You won't need to remember when you next need to replace your filter cartridges or book in your "Health Check". With a subscription, we'll deliver any components you need, when you need them.
Greater choice: Thanks to our subscription services, the opportunity to install a domestic soft water system is now much more accessible to a growing number of households. A subscription puts you in control to enjoy the optimum soft water solution for your home and lifestyle. We want everyone to benefit from having soft water in their home – without having to think of anything other than adding salt when it's needed. With an SJ Water Softeners subscription, it's all on tap – literally!

Use the table below to see how much you could save!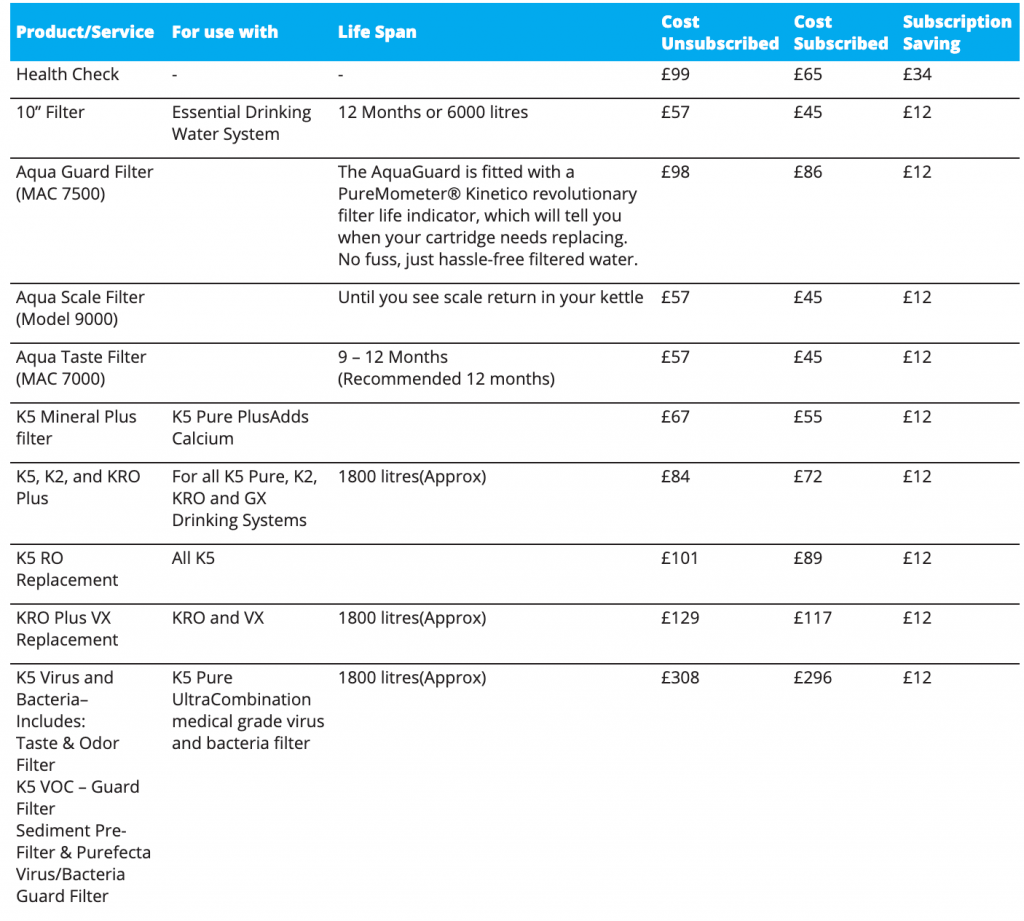 For an additional cost of £7 you can add a warranty for your filter and housing, for the period you remain subscribed.
If you are interested in subscribing, contact us here or simply call us 01243 607494 and we can discuss how this could be tailored to your requirements.